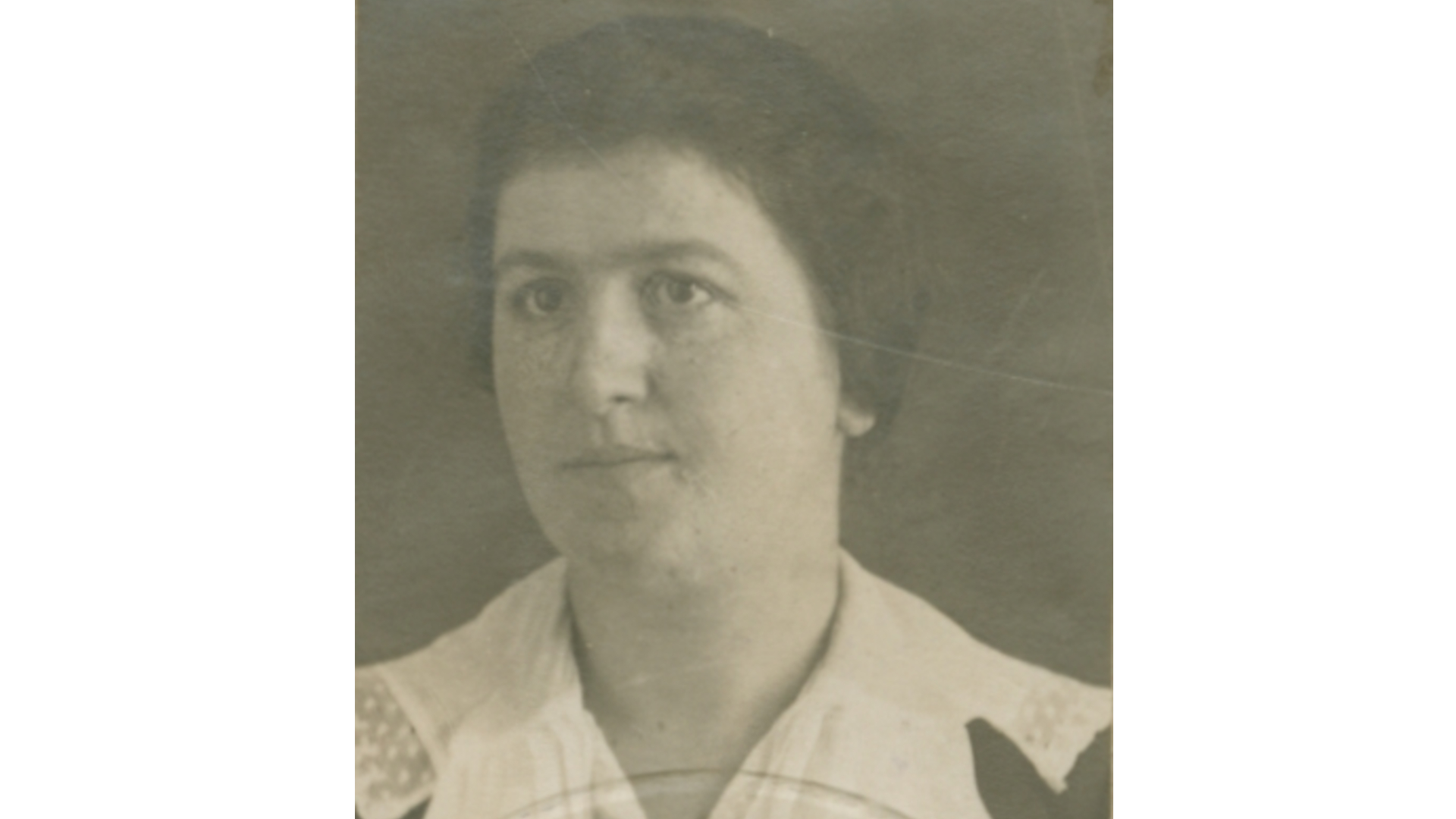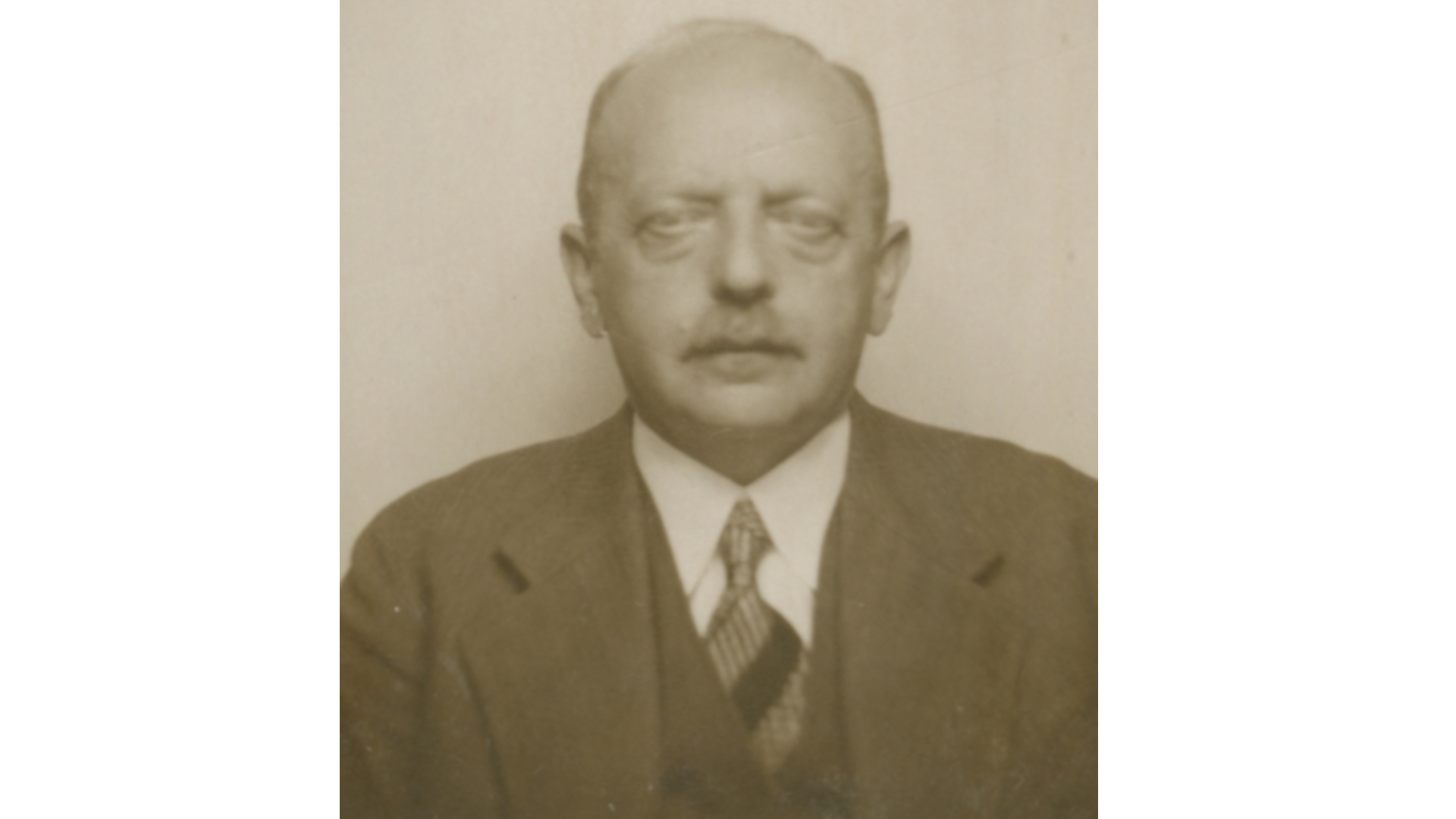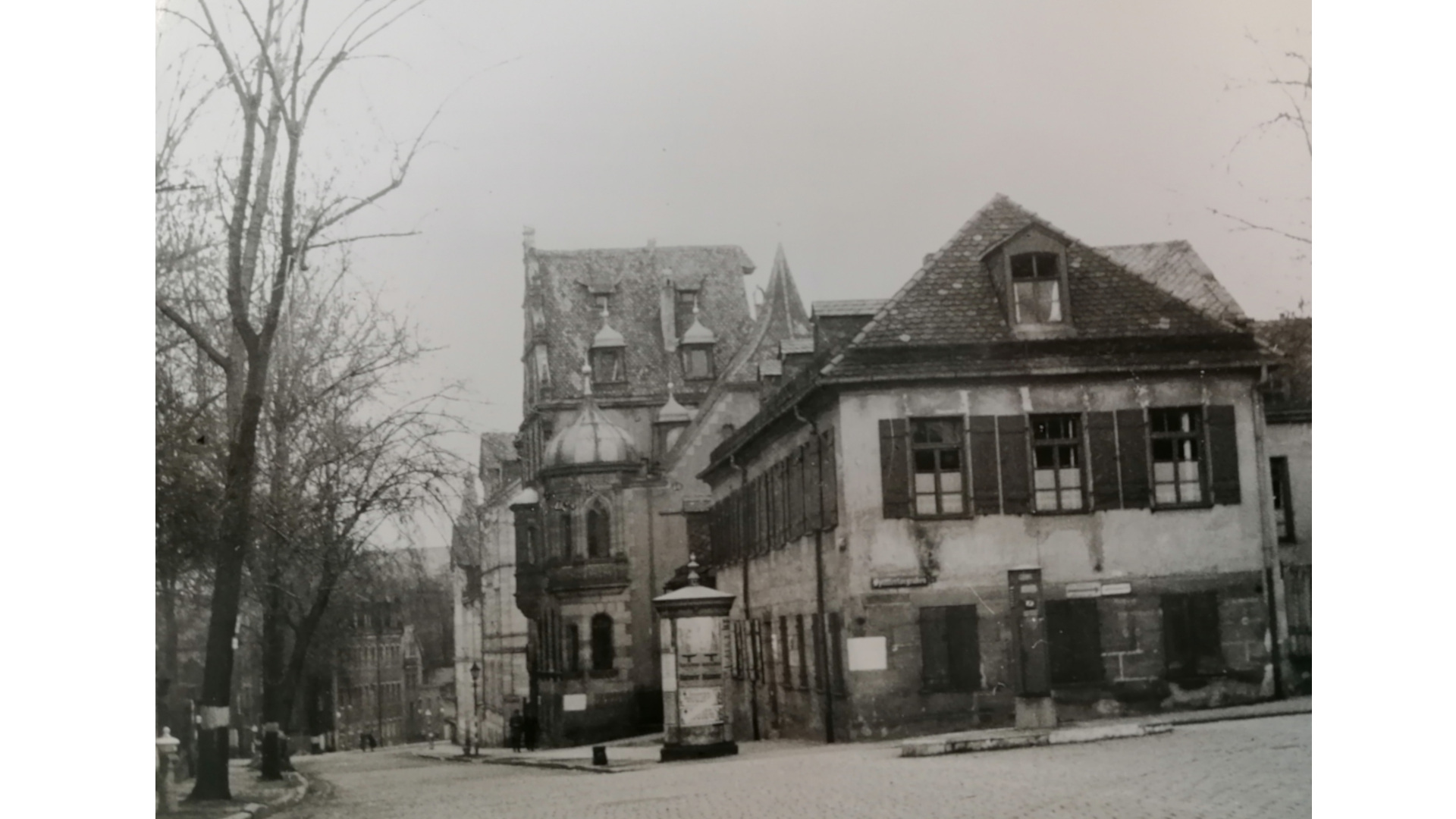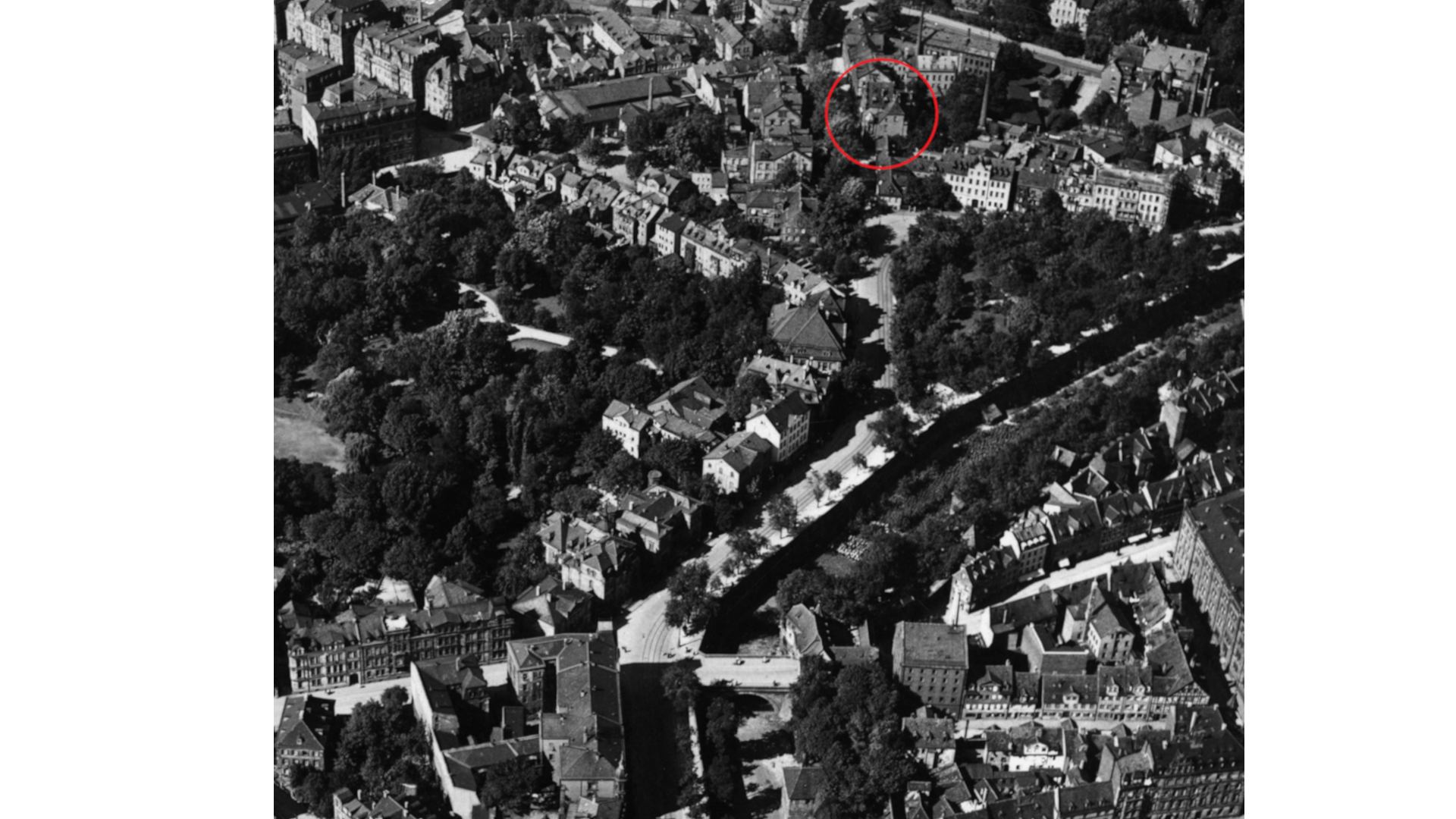 Leo Katzenberger, portrait photo from around 1920.

(Nuremberg City Archives, C21/VII No. 77)
Klara Katzenberger, Leo's wife, portrait photo from around 1920.

(Nuremberg City Archives, C21/VII No. 77)
Max Katzenberger, portrait photo from around 1920.

(Nuremberg City Archives, C21/VII No. 77)
Klara Katzenberger, Max's wife, portrait photo from around 1920.

(Nuremberg City Archives, C21/VII No. 77)
View of Praterstrasse looking northwards. The Katzenberger villa, with the house number 23, is the second building on the right-hand side. Photo, March 1944.

(Nuremberg City Archives, A39/I No. 605 R)
Praterstrasse 23 is circled in red. The Prater complex, the remains of a former outwork of the city wall, can be seen to the right of the middle of the picture, bordering the Spittler Gate moat (Spittlertorgraben). At the bottom of the photo is the Fürth Gate bridge. The Rosenau park area can be seen northwest of the bridge. Aerial photo 1927.

(Nuremberg City Archives, A 97 No. 287)
| | |
| --- | --- |
| Location of stone: Praterstrasse 23 | District: Himpfelshof |
| Sponsor: Hubert Rottner Defet, Thommy Barth and others | Laying of stone: 22 May 2004 |
On 22 May 2004 Gunter Demnig laid the first stumbling stones in Nuremberg. These included the stumbling stones for the brothers Leo and Max Katzenberger and their wives. None of them survived the Holocaust.
In 1942 the "Katzenberger Case" attracted attention throughout the German Reich: Leo Katzenberger, businessman and chairman of the Jewish cultural community in Nuremberg, was sentenced to death for "racial defilement" and executed. Through the publication in 1997 of the non-fiction novel "Der Jude und das Mädchen" ("The Jew and the Girl") by Christiane Kohl and the 2001 film "Leo and Claire" from Joseph Vilsmaier, this judicial murder attracted once again wide public interest.
Lehmann [called Leo] Katzenberger was born on 25 November 1873 in Massbach in Lower Franconia. He had eleven brothers and sisters. His father Louis ran a business in Massbach, selling men's and women's clothing, shoes and colonial goods. In his youth Leo travelled widely, living for a time in Paris. He eventually moved to Cologne, where he worked as a trader and became co-owner of a lacquer factory. In April 1906 he married Klara (called Claire) Sichel. Claire was born on 9 October 1884 in Schlüchtern (Hessen). The couple had two daughters: Käthe (born 9 February 1907) and Liselotte (born 26 September 1911).
Leo's brothers, David (born 11 February 1875) and Max (born 8 October 1878) had settled in Nuremberg in 1901 and ran the Springmann shoe store. In 1912 they brought Leo to Nuremberg to become the managing partner of the company. The firm expanded in the 1920s, having eventually 25 branches in southern Germany. The management office was situated at Spittlertorgraben 19, just a few minutes away from Praterstrasse. The largest retail store was located in the inner-city area of Nuremberg, at Karolinenstrasse 36.
In Nuremberg Leo and his family initially lived at Bucher Strasse 19. In October 1918, together with his brother Max, he bought the villa at Praterstrasse 23 and moved there. Max also lived in the villa with his wife, who had the same first name and maiden name as his sister-in-law, Klara Sichel. She was born on November 1892 in Kassel.
Contemporaries described Leo Katzenberger as a person who was socially engaged. From 1932 onwards he was deputy chairman of the Jewish cultural community in Nuremberg, representing there the association "Adas Israel". This was a society for orthodox Jews. It had its own synagogue but there was no formal division between "Adas Israel" and the liberal majority of the Jewish community. At the end of 1939 Leo Katzenberger became chairman of the community.
Through boycotts and other preventive actions, National Socialists made it very difficult for the Katzenbergers to operate their shoe business. In the "Night of Broken Glass" on 9/10 November 1938 several of their shops were destroyed. Subsequently, the Katzenberger brothers were forced to sell their properties at very low prices and the municipal authorities obstructed the payment of the modest purchase-money. The villa, where they were still allowed to occupy some rooms, was also included in this "Arianisation" process of expropriation. Leo and Max's children had emigrated to Palestine between 1932 and 1938. When Leo and Max, together with their wives, decided to do the same, it was already too late and they could not leave the German Reich.
In 1942 Leo Katzenberger became a victim of National Socialist justice. The residents of the Rosenau district, where the villa and the firm's headquarters were located, had spread for years rumours to the effect that Katzenberger was having an affair with the "Aryan" photographer Irene Seiler (née Scheffler). Katzenberger was friends with her father and had rented out a flat to her at Spittlertorgraben 19.
The notorious "blood judge" Dr. Oswald Rothaug, who presided over the Nuremberg Special Court, sentenced Leo Katzenberger to death in March 1942. The judgement, at the end of a sensational show-trial, was based on the so-called "Blutschutzgesetz" ("Law for the Protection of German Blood and German Honour"), which made sexual relationships between Jews and "Deutschblütige" ("people of German blood") a criminal offence. In addition, Rothaug made use of the "Volksschädlingsverordnung" ("Degree against Public Enemies"). This law, relating to crimes committed at time of war – such as exploiting the protective measures taken during air raids, where blackouts meant there was no street lighting or light visible from houses – provided a framework for increasing the sentence There was no evidence for the existence of a sexual relationship between Katzenberger and Seiler. Both denied the charges.
On 3 June 1942 Leo Katzenberger was guillotined in Munich-Stadelheim Prison. Leo's wife Claire, together with his brother Max and his wife Klara, had already been deported to Izbica on 24 March 1942, where they were subsequently murdered.
- Christiane Kohl: Der Jude und das Mädchen. Eine verbotene Freundschaft in Nazideutschland, Hamburg 1997.
-Hartmut Frommer/Kathrin Westner: "Ein Justizcollegium weit schlimmer wie eine Diebsbande". Die Vernichtung von Leo Katzenberger durch das Sondergericht Nürnberg, in: Mitteilungen des Vereins für Geschichte der Stadt Nürnberg No. 85 (1998), pp. 315-326.
- Nuremberg City Archives, C 21/X No. 5 registration cards.
- Nuremberg City Archives, F 14 No. 6 Konvolut Katzenberger (collection of documents on Katzenberger)
- Nuremberg City Archives (ed.), Gedenkbuch für die Nürnberger Opfer der Schoa (Quellen zur Geschichte und Kultur der Stadt Nürnberg, vol. 29), Nuremberg 1998, p. 163f.