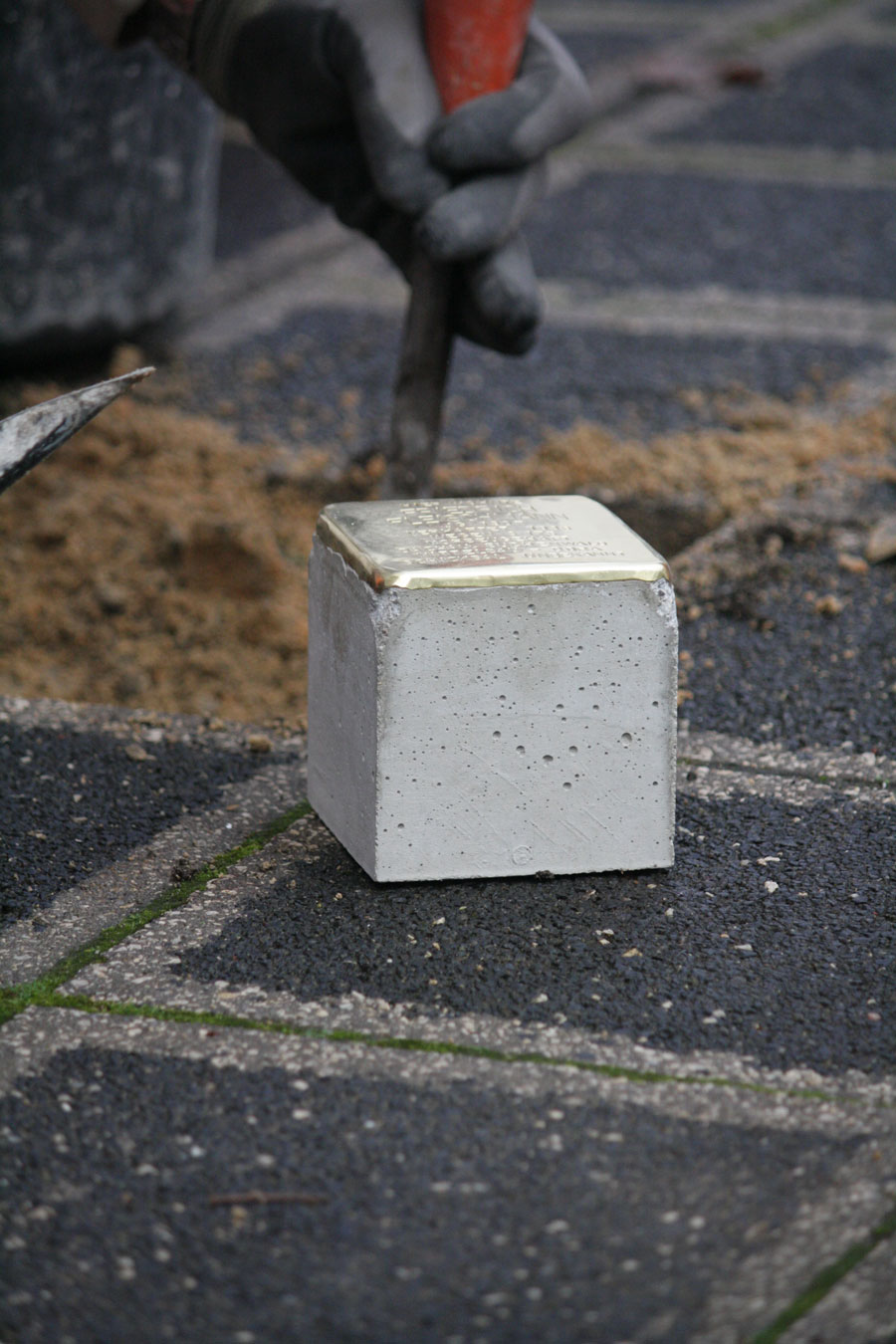 The homepage for the Nuremberg stumbling stones is up and running!
| Article from November 2021, by Dr. Pascal Metzger
Numerous people have contacted Geschichte Für Alle e.V. (History for Everyone) with questions relating to stumbling stones. This website now provides an overview of the topic, an index and all the biographies and photos.
On 22 May 2004 Gunter Demnig laid the first stumbling stones in Nuremberg. These were 32 memorial stones for Jewish citizens of Nuremberg who had lived in the city districts of Rosenau and Wöhrd. Hubert Rottner Defet, Thommy Barth and others involved in the project, organised the laying of the stones.
In the years that followed, descendants of Holocaust victims and owners of houses where Jews had previously lived, frequently got in touch, wanting to lay stumbling stones for the victims. Locally, Hubert Rottner coordinated the laying of the stones up until 2017.
In that year, at the instigation of the association Fliederlich e.V., the first stumbling stones were laid for homosexual victims of National Socialism. Geschichte Für Alle e.V. helped in the preparations for the laying of the stones and in the presentation of an evening lecture by Gunter Demnig.
Subsequently, we became Gunter Demnig's contact partner in Nuremberg regarding the local stumbling-stone project. We collect the requests for stumbling stones, research biographies, organise appointments and take care of the numerous issues, both large and small, associated with the laying of stumbling stones in Nuremberg.
In addition, we organise stumbling stone projects, such as the recent seminar at Herman Kesten College: together with pupils there we researched the lives of victims of National Socialist medical crimes. These people had been forcibly sterilised or murdered on the grounds of actual or alleged illnesses. To conclude the project, Gunter Demnig laid four stumbling stones.
This website is the result of multifaceted cooperation and support: the "wbg 2000 Trust", the "Koch-Pocher'sche Trust" and the foundation "Nuremberg – City of Peace and Human Rights" provided generous financial subsidies for the production of the website. The city archives in Nuremberg helped with the research and made numerous photographs available. The internet agency Keller & Kollegen programmed and designed the website. The photo design studio Michael Meyer photographed the stumbling stones, their production and the laying of the stones. The team from Geschichte Für Alle e.V. produced the content for the website.