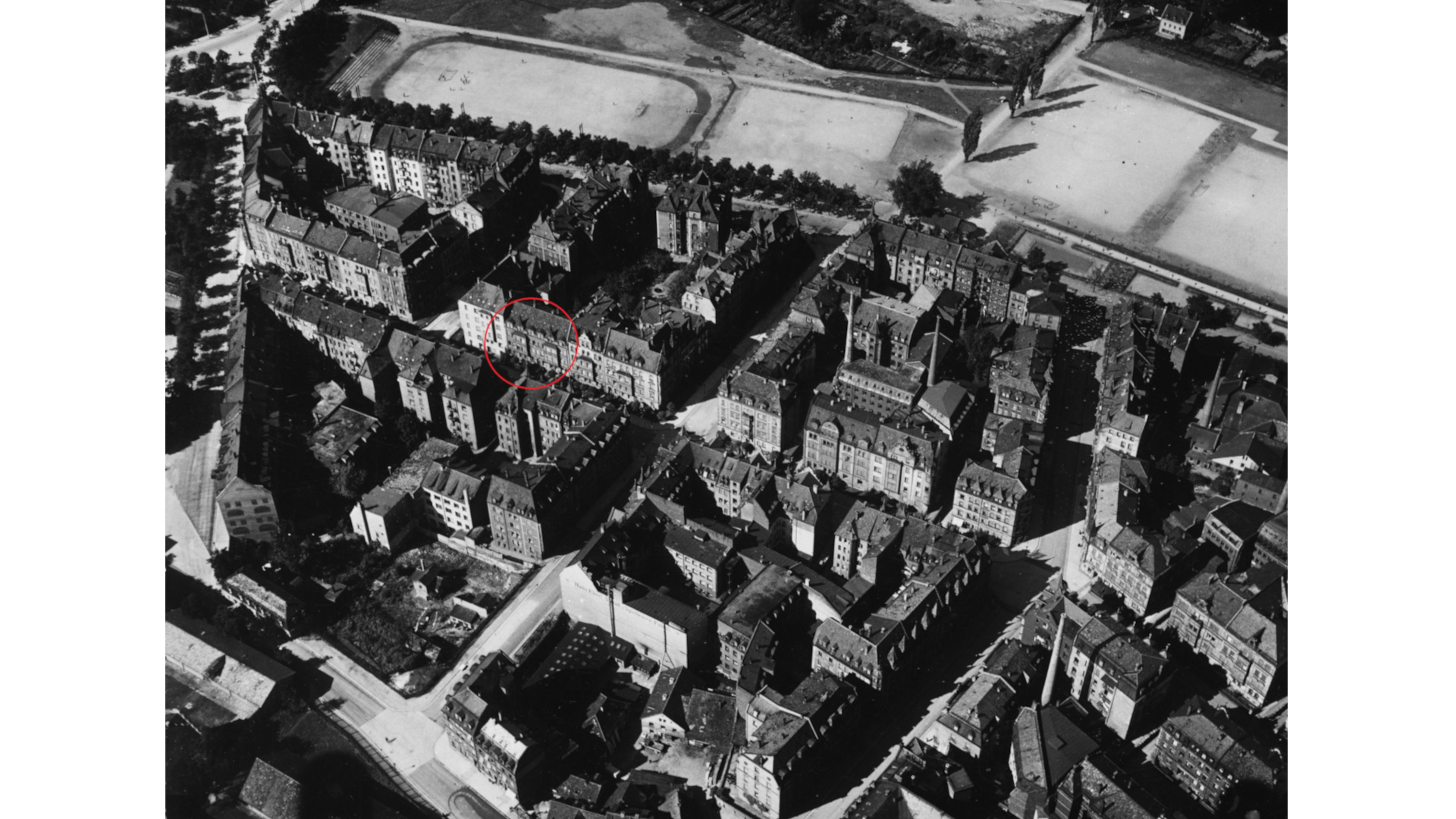 View of Hochstrasse looking westwards from the intersection of Hochstrasse and Moltkestrasse. The house with the number 32 is the third building on the right-hand side of the street. Photo from around 1920.

(Nuremberg City Archives, A39/I No 283 R)
The red circle marks the location of Hochstrasse 32. Hochstrasse is the street which cuts across the middle of the picture. Its eastern end is on the right in the photo. The street bordering the left-hand side of the picture margin is Roonstrasse. The Deutschherrn Meadow (Deutschherrnwiese) is visible at the top of the picture, to the north of Deutschherrnstrasse. Aerial photograph 1927.

(Nuremberg City Archives, A 97 No. 264)
| | |
| --- | --- |
| Location of stone: Hochstrasse 32 | District: Himpfelshof |
| Sponsors: Hubert Rottner Defet, Thommy Barth and others | Laying of stone: 22 May 2004 |
On 22 May 2004 Gunter Demnig laid the first stumbling stones in Nuremberg. These included a stone for Martin Selling, who was murdered in Auschwitz.
Martin Selling was born on 7 October 1893 in Nuremberg. His parents were the trader Josef Selling and his wife Julia (née Neuburger). Martin had two sisters: Paula (born on 8 November 1891) and Meta (born on 5 January 1905).
On 17 March 1943 Martin was deported from Berlin to Theresienstadt concentration camp. From there he was brought to Auschwitz concentration camp on 29 September 1944, where he was murdered.